For vegetation managers, challenges around ever-growing and -changing vegetation and infrastructure are a dime a dozen.
After working with over 80 utilities over the last few years and talking with many others at events like DistribuTECH, we've seen 6 major and persistent concerns: safety, budget, reliability, liability, customer satisfaction, and workforce management.
These challenges set the stage for the first episode of the State of Vegetation Management live event series. Host Gary Huntley, former vice president of distribution at Entergy, invited attendees to discuss these 6 challenges with guest Chris Kelly, former chief operating officer at National Grid.
With more than 60 years of experience combined, Huntley and Kelly shared real-world examples to solve some of the biggest challenges in utility vegetation management.
View the event here or read on for the 6 key challenges facing vegetation managers today.
Safety
Nothing hits harder than loss of life on the job — something no vegetation manager wants on their watch. Huntley recalled one such incident at his previous company, which drove the company to undertake a massive effort to understand what happened to prevent such future accidents. This meant reviewing work plans, supporting services, tools, processes, and clearances.
"Every chance you have to maintain clearance around your lines is an opportunity to maintain not only reliability for your customers but also safety for your employees and safety for the public," he said. That means not only maintaining clearances before the disaster, but also knowing where your concerns are afterward.
Satellite and AI technology can help keep tabs on where these safety concerns lie. Take images after a storm and see where you have downed trees or downed lines. Even before you have someone determine whether that line is energized, you can at least have visual evidence of potential hazards, Huntley explained.
Kelly agreed that serious injuries and fatalities are something that remain with a company and its vegetation managers forever. He advocates concern for safety for contractors on the same level as concern for employees. Likewise, performance expectations are the same. "If you're taking shortcuts there will be zero tolerance for those kinds of things. If there is an accident, we're going to get to the bottom of it."
Budget
Budgets are always tough. And it gets tougher when budget cuts hit after work plans have already been created.
Huntley recalled the difficulties of having a work plan put together and then trying to figure out "how to make those budget cuts and still beat or try to meet your targets and customer satisfaction scores. It's really, really daunting."
When faced with a $7 million budget cut, Huntley found that satellite and AI technologies offered a way to collect information very quickly to inform decisions and support effective budgeting.
"I found that using the satellite imagery as well as the artificial intelligence platform I was able to get information quickly and a lot less expensively than LiDAR … a lot faster than it takes to process the LiDAR," he said.
That is not to say LiDAR use should be fully discontinued. Some instances may need the accuracy of LiDAR, and a good satellite and AI solution will be able to take in LiDAR information for analysis.
Want a full breakdown on satellites and AI vs LiDAR for vegetation management? Learn more here.
Along with budget cuts are increases in expenses. Rising contractor costs are no small issue because most utilities outsource a good amount of line work. Getting and keeping in-house line workers is also becoming more difficult, leading to wage increases as companies compete for employees, observed Kelly.
The moral of the story is that money must be spent wisely. "You put the right crews at the right place working on the right work for the best, most efficient use of the money," Kelly said.
Reliability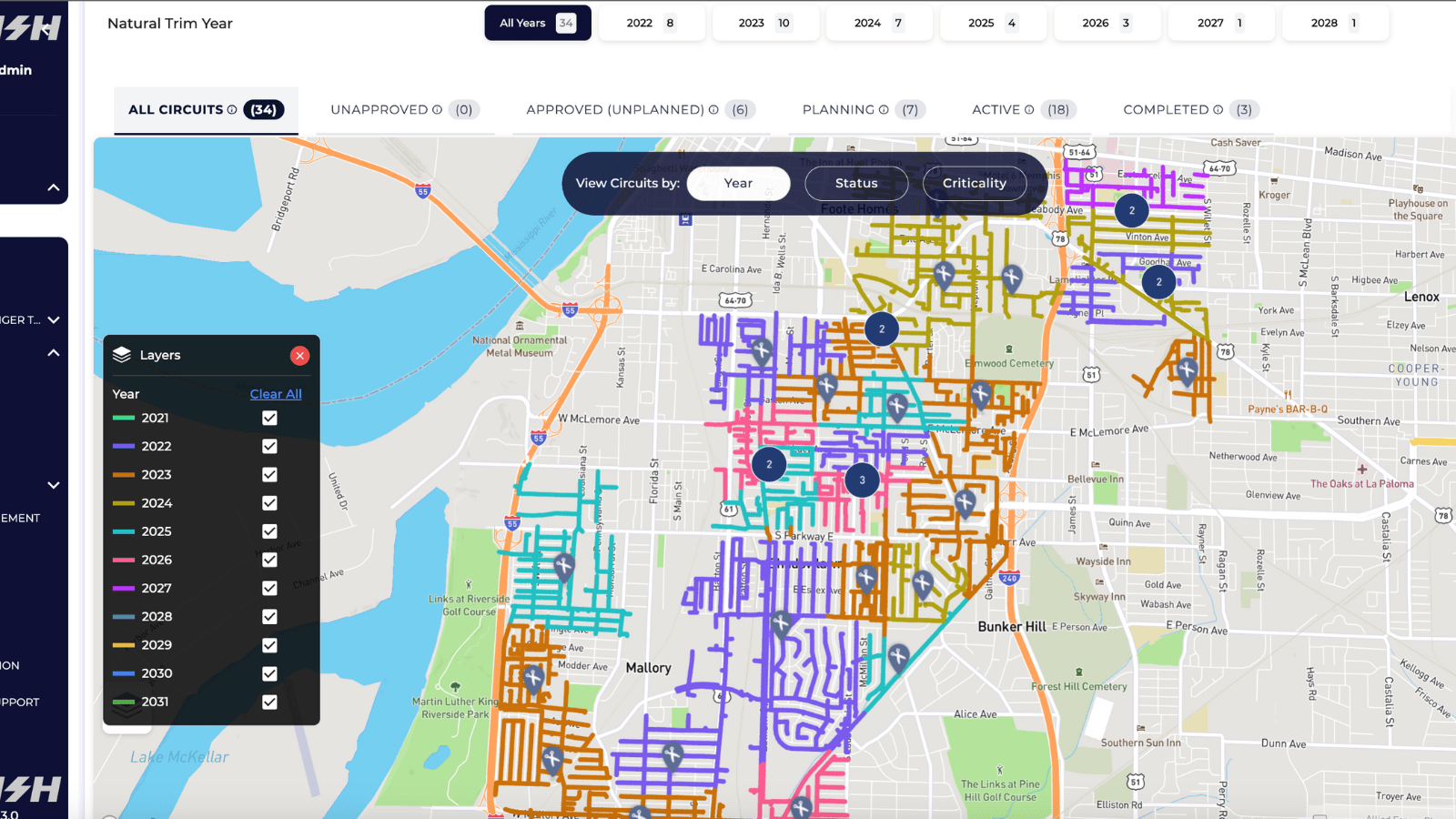 Beyond affordable service rates, the No. 1 customer expectation is always high reliability.
Customers, as well as regulators, want to see improvements in SAIDI and SAIFI. And it's up to vegetation managers to ensure reliability in the midst of climate issues that cause more frequent and devastating fires and storms, aging infrastructure, and rising labor costs.
Satellite and AI solutions can lead to greater reliability by supplying the data needed to plan work. AI allows vegetation managers to run scenarios with criteria they'd like to achieve and see where to rearrange work plans to make sure resources are available where needed. Other use cases may be to assess contractors' invoices in light of the reliability results, or to examine imagery to perform post-work audits to make sure work that was agreed on was done correctly.
But how do you manage trees on a customer's private property or fight city hall when they are hyper-vigilant about an area's beauty? And how do you pay for it?
"We spent a lot of time at community meetings explaining what we do and how we do it," recalled Huntley. "You know you're not going to satisfy everyone, but I will tell you that it was refreshing to be able to walk out of some of those meetings and even though they didn't like the answer they did understand it."
In addition, running your plan by your regulators can be advantageous, according to Huntley. By showing the regulators what worked, his company was able to gain approval for the rates they needed to complete outside-of-ROW work.
Liability
Wildfires are top of mind when it comes to the topic of liability. U.S. West Coast utilities have been held liable for massive outages and extreme losses in homes and properties due to utility-sparked wildfires in recent years.
Read: How United Power is mitigating wildfire risk with satellites and AI. 
The liability has been so severe that contracting organizations are changing company structure to fence out liability.
On the flip side, utilities can help mitigate some of their liability by ensuring they have had important conversations with their contractors, to address:
Safety.
Full work plans, including restoration and normal vegetation management.
Equipment needs.
State safety advisory board updates.
"We're regulated industries and we're expected to use good utility practice in everything we do. But stuff still happens, and you need to make good on it," Kelly said.
In California, this has meant a lot of evaluation, resulting in a 1,000-page wildfire mitigation plan.
While the U.S. Northeast has not experienced the same the extent of damages, it is not without hazard tree and infrastructure challenges. But since most utilities have processes in place to address this liability it doesn't often reach the public's radar.
Satellite and AI technology can ease liability concerns by keeping vegetation managers informed about: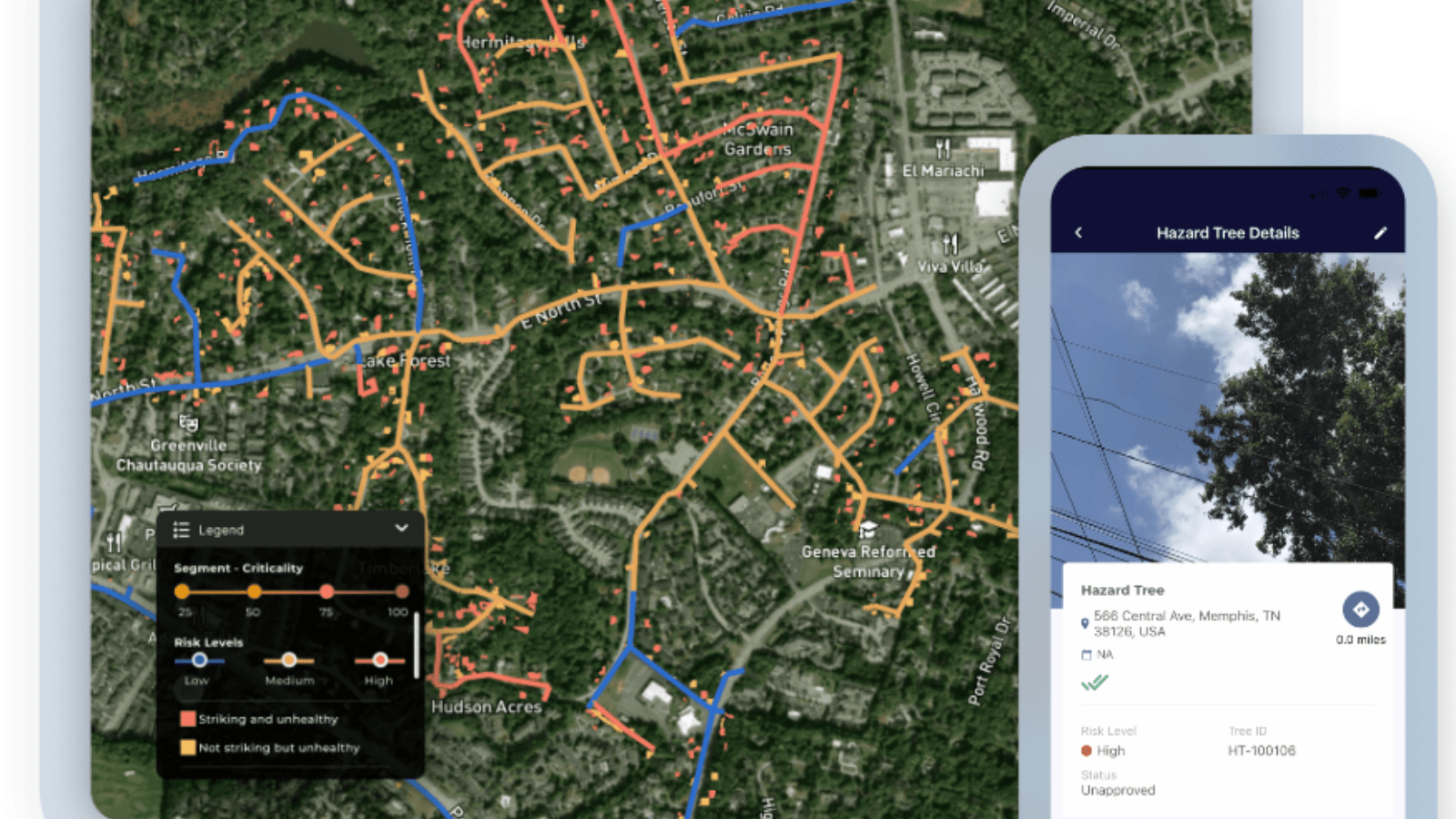 Condition of facilities.
Vegetation encroachments.
State of poles — leaning, damaged.
The satellite and AI solution presents data in easy-to-observe views, including color coding for issues: red for imminent danger, yellow for approaching danger, green for acceptable — for now.
Customer Satisfaction
From rates to outages to payment options — a lot goes into customer satisfaction.
"You've got to have trusted relationship built up with the customer on all fronts. Customers truly care about estimated time of restoration, and the more conversations you can have with them either through technology or directly when they're experiencing an outage builds up that trust," Kelly said.
He recommended that utilities expand on that trust to the point where the harder conversations about tree trimming and vegetation management can be approached. But — have the hard conversations when necessary and not before: Pushing the hard conversation about trimming trees outside of ROWs but on customer property may be best avoided unless utilities have the data to back up the proposed action.
Use technologies, including satellites and AI, to show the difficulties posed by growth and when specific outcome-based work is needed to address danger trees and other issues. Customers will appreciate a few outcome-based conversations rather than these tough issue discussions with every annual cycle trim or even every four years.
Workforce Management
In the utility industry, experienced vegetation management professionals leave and are tough to replace — utility personnel as well as contractors.
How do you get new workers up to speed?
"Provide them with as much information and analytics as possible," said Huntley. "Satellites and AI can augment the shortage of experience with data."
Highly experienced workers may easily jump into a work order, while those who are less experienced will need to take time to figure out their logistics, safety, and next steps. Providing that extra satellite/AI solution data upfront can help vegetation managers ensure that:
Line workers will be better prepared to do the work.
They will be better able to determine the quality of the work that was done.
They will have more certainty around the expected cost.
"In my mind utilities need to lean into this digital approach a lot more versus kind of that waterfall approach — putting in these big, massive systems that are very tough to budget very tough to plan for," said Kelly. For example, he noted that because the mobile apps for satellite and AI technology are on tablets or phones line workers already use in their everyday lives, the learning curve is minimal.
However, no new technology is going to be successful without spending the time and resources on change management. Huntley noted that people need the time to try and fail without being penalized.
Kelly recognized that some people may be frustrated or resistant to change, because technology continues to evolve — causing more change. "But I would want it, because: 1. It helps me in my day job, and 2. It gets me ahead of the game," he explained. "So that when it does become even better, you've already given your workforce a mindset around outcome-based trimming, and you won't be behind the 8 ball again."
Click here for more information about AiDash's satellite and AI-powered vegetation management solution.