The state of utility vegetation management solutions today: The good, the bad, and the promising
The state of utility vegetation management solutions today: The good, the bad, and the promising
From dedicated professionals who've become wellsprings of historical knowledge and know-how to infrastructure that's held its own for decades, utility vegetation management operations have a lot to be proud of. 
Today, those plusses are especially valued as utilities strive for grid growth and service reliability amid the challenges brought by Mother Nature and technological change. 
While practices and procedures that have held strong for years are keeping operations and vegetation management solutions moving, the heavy hand of climate change is driving more intense storms and wildfires which, coupled with labor changes and budgetary concerns, are taxing vegetation management.  
Looking for a deep dive on satellite-powered vegetation management? Get your copy of our free book today. 

Inside the utility — tech, costs, and retirements
Selecting and implementing new software and procedures to track vegetation can be daunting and some utilities have opted leave well enough alone.  
But just because "we've always done it that way," doesn't mean "that way" is the right way to handle today's increasingly intense responsibilities.  
Internal challenges holding back acceptance of new technologies, like satellite and AI solutions, include: 
Reliance on paper
Some continue to use paper maps to track vegetation overgrowth and hazard trees. Others have taken the step forward to scan the maps into a system like Microsoft OneDrive, to allow the reporting to be accessed electronically. But systems to further gather, organize, and analyze data are not in place.  
Resistance to change
Hesitance around new technologies is not unusual as all humans can be resistant to change. While satellites and AI can bring improvements in data gathering and sharing as well as analysis, it can be hard for utilities to get employee buy-in to the change. Major pushback includes a bevy of questions, such as: 
What we have works. Why change?

 

Is the technology really proven?

 

Will the technology be accurate?

 

Who is going to lose their job or promotion over this? 

 
Change can be difficult at higher levels of the utility as well for investors and stakeholders who want guarantees before taking the leap. The administration would also like an easy way to navigate those corporate structures most resistant to change.  
For example, if management can speak to directing workers to the areas where they their efforts are most needed to support more efficient work, they can mitigate staff worries about job status. 
Budget constraints

Shutting the door on new technologies, such as satellite and AI solutions, can become second nature for some utilities. It is already difficult enough to stretch the budget to handle aging infrastructure replacement and repair on top of general vegetation management practices, and everything is only becoming more expensive. With stagnant or declining budgets, squeezing out funds for new tech solutions can seem like an impossibility.  
Retiring workforce
Retirements across the board, from talented field staff to executive leadership, can hobble a utility's operations. 
Demographics indicate that the majority of the workforce and vegetation managers across utilities have more than 15 years of experience and vast institutional knowledge. But professionals reaching this level, with a decade or two of experience, are choosing to move on, some retiring and some starting their own companies. 
What may be a positive move for the retiring individuals is putting utilities in a tough spot. 
Of course, utilities will recruit staff, but the new hires — including those who may just be moving in from another area of the company — can be problematic. They may have project management experience, but without vegetation management experience they face a huge learning curve. 
Hear how Wake Electric is solving for that learning curve. 
So, the industry is faced with the challenge of holding on to their high-level managers longer or dealing with lack of experience until new hires can evolve beyond the knowledge gap to fill the position. 
Outside utility walls — trim cycles, visibility, climate initiatives
Similar to resistance to internal change the pushback on external changes can be strong.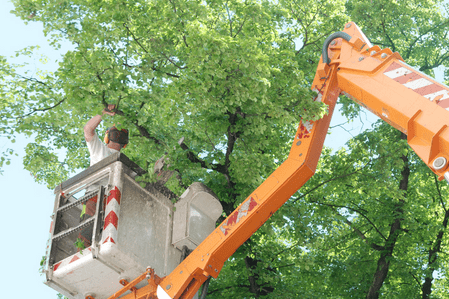 Trim cycle status quo
The preference for fixed annual trim cycles instead of risk-based responses dictated by new technologies is clear.  
It's true that for 12 months out of the year, unless there's rain, sleet, snow, hail, or some other type of event, evaluating and trimming vegetation will occur per annual cycle planning. Most utilities are faced with the impossibility of servicing an entire territory in one year, so there is always going to be a need for annual trim cycle planning that will rotate across segments year after year.  
The possibility is to transfer from a year-after-year approach to a data-driven risk-based analysis stance. With a satellite and AI solution, high-risk areas are easily identified, and AI can evaluate the urgency level.  
For example, in August, management can consider an AI insight about danger trees in a specific zone that would typically be scheduled for trimming in February. Acting on that insight, they can address the risk by culling the danger trees in September instead of waiting for a potential fall-in to occur.  
Poor visibility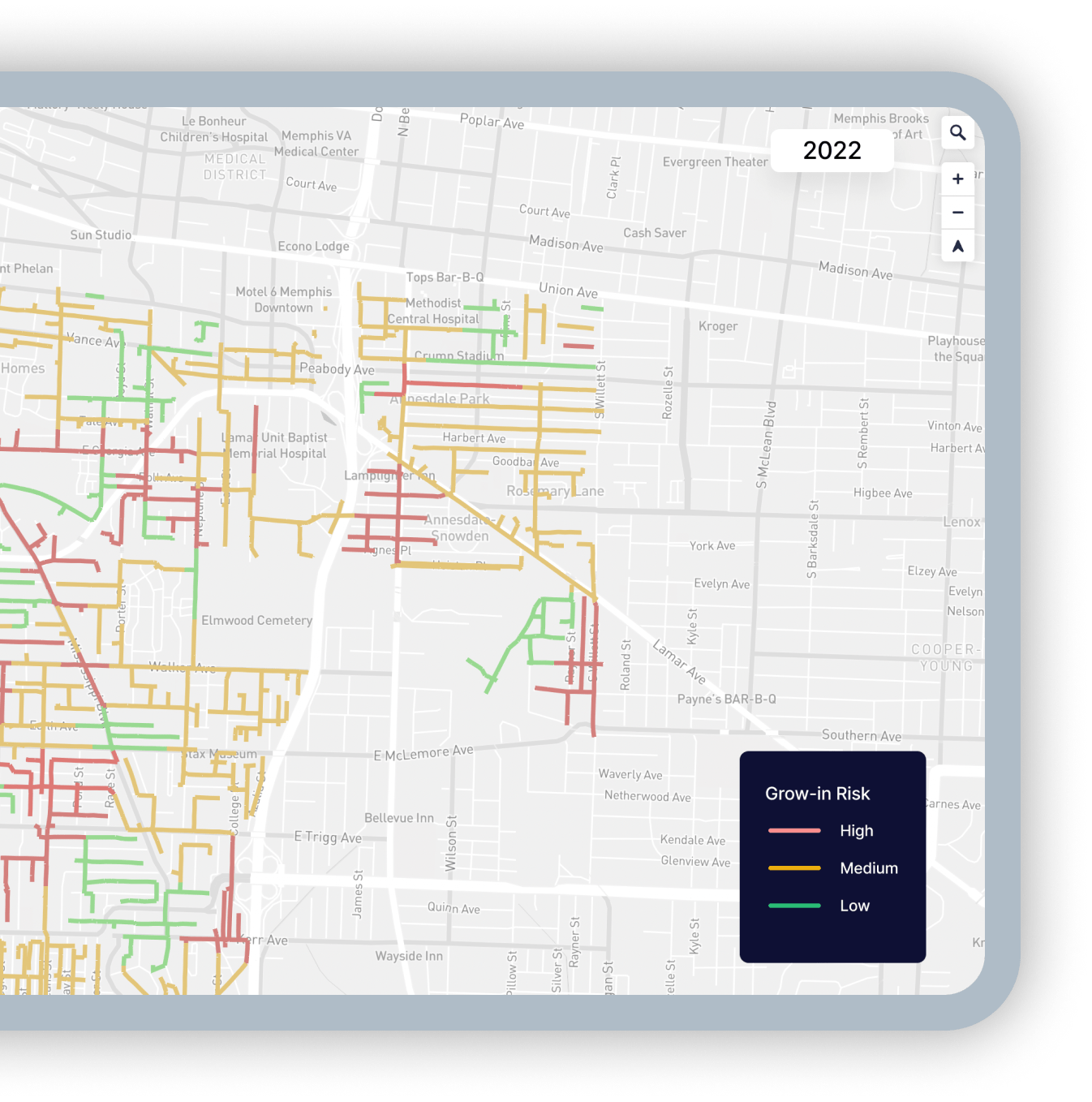 Utilities have a lot of decisions to make and need visibility throughout their transmission and distribution lines as well as stations to plan operations and maintenance (O&M). Manually, via meetings and phone conferencing, management needs to determine: 
When is it time to improve aging infrastructure?

 

Which work orders are best use of tight budget dollars?

 

Which circuits can be moved to later in the trim schedule?

 
They make the choices that support the most risk-free approach to vegetation management, such as putting a circuit on a four-or five-year trim cycle to achieve a pretty good assurance to maintain required reliability. 
While these choices will be evaluated and decided based on risk, their efficiency and effectiveness can be driven up a notch with a data-driven approach, based on the wealth of information and insight offered by a satellite and AI solution. 
Climate initiatives
Obviously, storms and disasters can change the outcome of the best-laid plans. By mid-third quarter of 2022, climate driven weather disasters had cost the world $29 billion. Climate change now regularly multiplies the already harsh burdens of a particular weather event. Despite the need to address the extra burden, some utilities continue to hesitate to adopt new solutions due to doubts around perceived risk. 
How does this satellite technology work?

 

Is it really accurate?

 

What is it going to cost me on top of what I'm already spending?

 

What are my risks in spending extra money?

 

Will I get the desired outcomes?

 
When the scales tip toward change
While some utilities are quick to look to new approaches and solutions, most will avoid the tech adoption until they clearly: 
Reach the place where increases in costs or outages become overwhelming.

 

Acknowledge that satellite and AI solutions are the way the industry is headed and recognize that they just need to get more comfortable with the technology.

 
For example, one AiDash customer experienced a significant cut in vegetation contract budget. The work still had to be managed, but getting a current assessment of the full trim picture helped them to direct resources to the most urgent need and demand the move toward technological solutions. That challenging situation propelled the utility into considering new technology. 
If you are on the verge of considering new technology, consider the stories of those who have already deployed satellite and AI solutions. AiDash has grown to more than 80 customers who use our satellite and AI climate technology.  
To learn how our customers are achieving success with AiDash Intelligent Vegetation Management System, view our case studies here.